Sherp ark 3400
Starting at $400,000
10-Wheel Drive
Key Sherp Ark Specifications
The Sherp Ark is the most extreme commercial off-road vehicle available. With multiple configurations, customers can match the Sherp to specific needs. The Sherp Ark is ideal for large scale search and rescue, humanitarian relief, fighting wildfires in swamp laden areas and for moving people and supplies. The Ark includes a powered tow vehicle and a powered trailer providing 10-wheel drive!
All Ark's are custom ordered. Final price and delivery will depend on configuration and shipping. A non-refundable 75% payment is due on order, 25% is due on acceptance at the dealer facility after training and a test drive. View MotorTrend article on testing the Sherp Ark.
10 wheel drive clearance, .9 to 2.1 lb ground pressure
40 deg incline and decline
2m trench crossing, 5' approach angle
18.6 MPH on land, 3.67 MPH in water
40 deg climb, 1.5m obstacle, 30 deg tilt
Up to 22 passengers based on configuration
Engine warranty - 36 months or 3,000 hours
Doosan D24 engine, 2 to 3.2 GPH fuel consumption (82 hrs)
250 hour service interval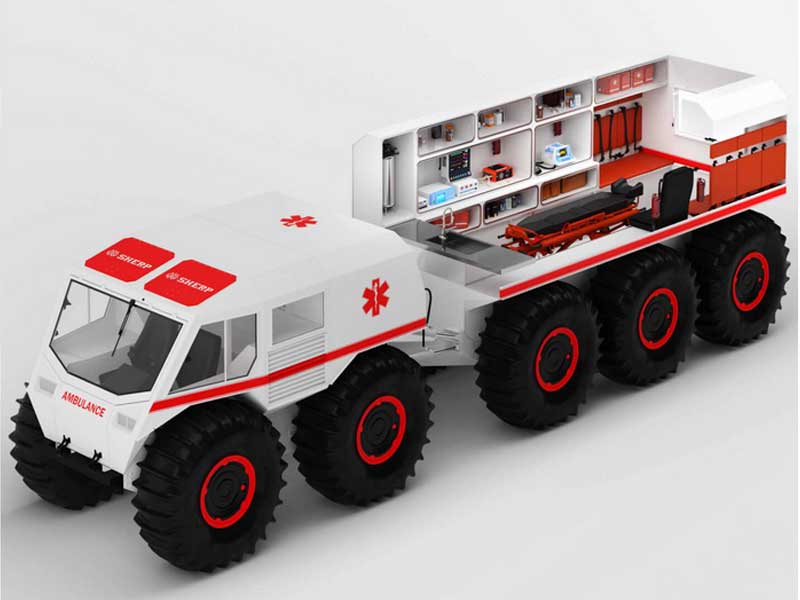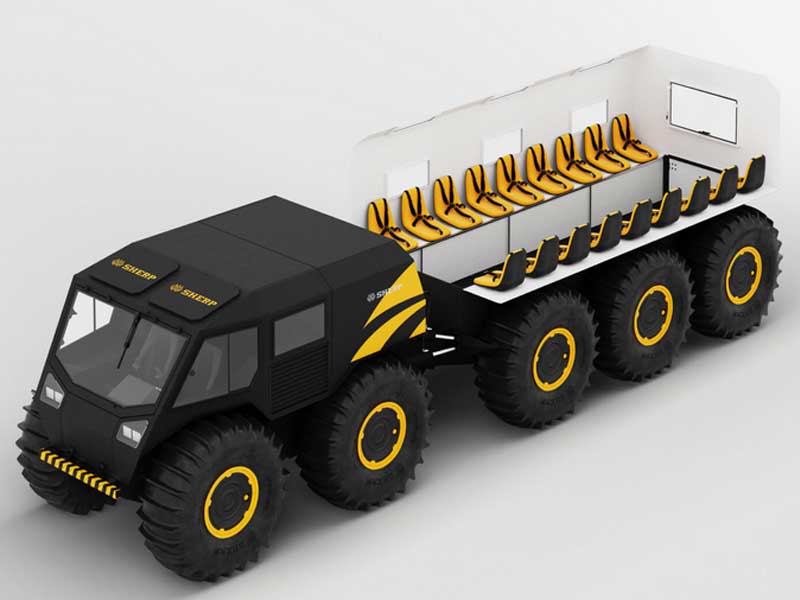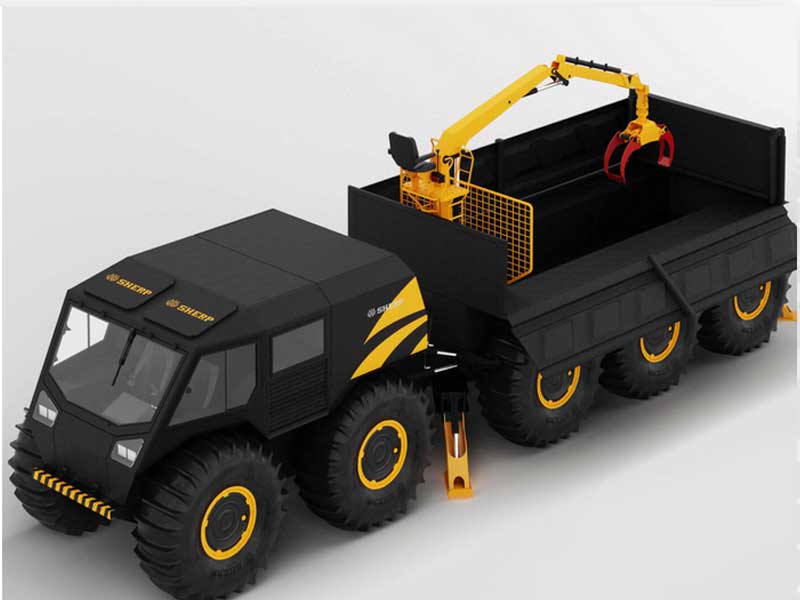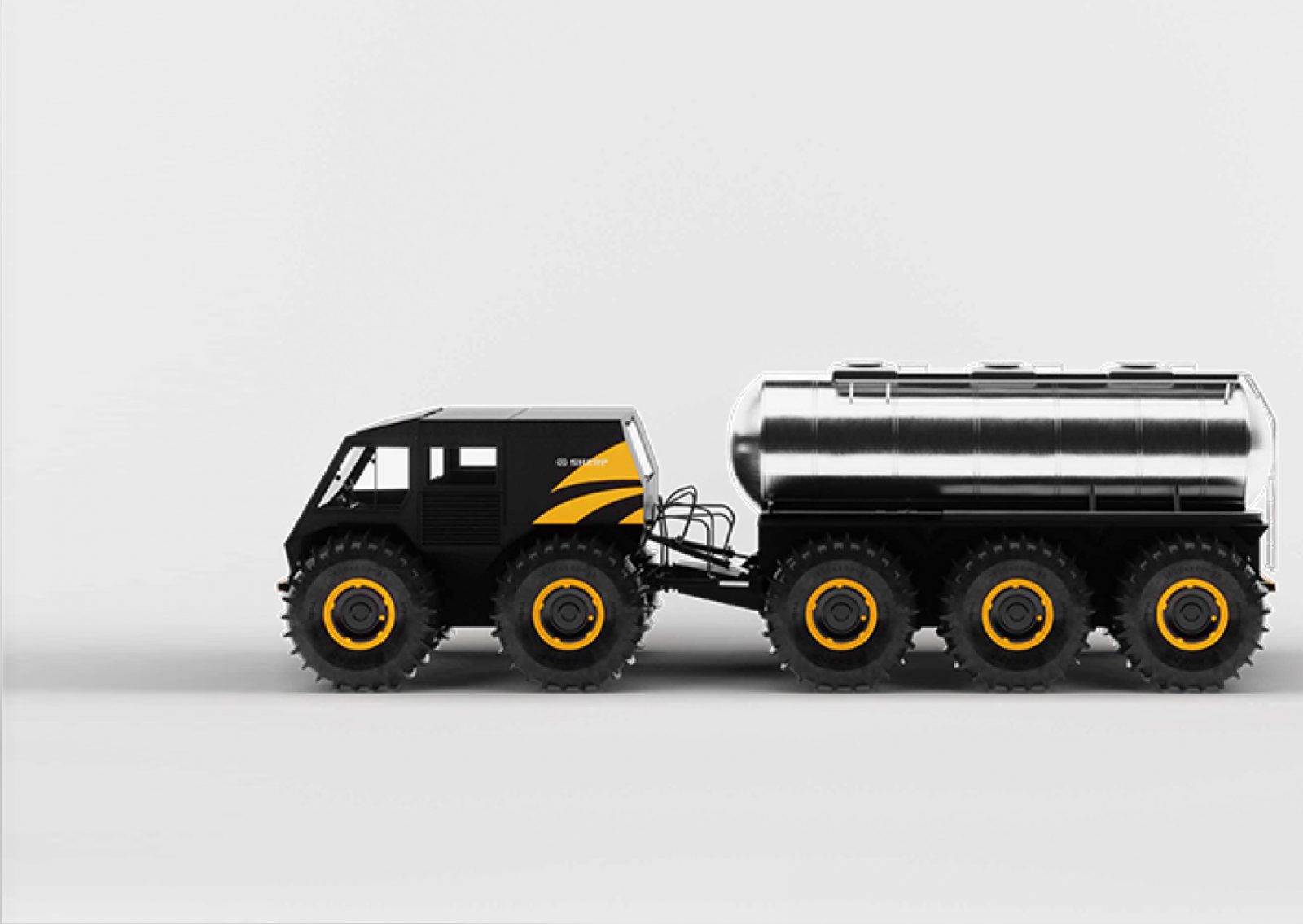 Cabin module ROPS
Backup battery
Rear view camera
LED hi and low beam
3-point seatbelt for driver and passenger
Additional fuel tank rims
Longer warranty
Longer service interval
Oil baths for transmission drives
Improved materials
US EPA Certificate of Conformity
Warranties & Certifications
Bigger and Badder for the Ark 3400
New SHERP The Ark 3400 the warranty is doubled and now is 24 months or 2,000 workhours. Excludes travel and per diem, if required. 
Warranty period for new SHERP The Ark 3400 engines is increased by three times and now is 36 months or 3000 workhours.
Applying new technologies increased the service interval by five times and now it is up to 250 workhours.
United States Environmental Protection Agency (US EPA) | Certificate of conformity with the clean air act.