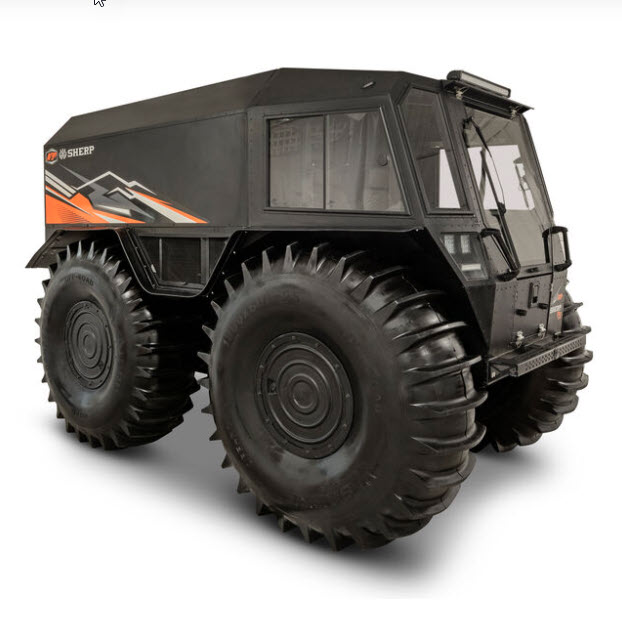 Sherp ATV Sales Process Overview
The Sherp ATV sales process is quite simple and straight forward. When you say you are ready to place an order an estimate will be provided. When you approve the estimate, a deposit of $30,000 is made via ACH. This puts your name on a unit in inventory or in route. The unit will then go through up-fitting and testing. Once it is ready to ship you will be notified and the balance is due. On receipt of payment you will be put in contact with the shipping company to monitor the progress to your location. On delivery you will get a walk through of the unit. If you can drive a tractor, you can drive a Sherp. It is very easy if you take your time, read the manual and work into extreme off-roading. 
Budget
To start you should budget $150,000 for the average sale. This gives you an idea of the investment with the most common accessories. There is no in-house financing so you will have to work with a local lender. We suggest a company that finances heavy equipment or farm equipment. 
Sherp Sales Timeline and Steps

Delivery Timeframe
The delivery time is dependent on when you place your order and how many other units have already been secured by others with a deposit. Typically delivery to your location is 3 to 6 weeks in the USA and Alaska. Delivery costs are extra and dependent on the destination. A delivery estimate will be included in a formal estimate when you are ready for that step.
Pre-Delivery Inspection and Upfitting
All Sherps purchased through SherpATVSales and from Sherp USA, go through a rigorous testing process. A professional driver (drives every unit), drives every unit through a course for up to two hours to find little things Argo ATV does not find because Argo does not field test drive units prior to shipping. Little things like clutch adjustments and parking brake tension are noted provided to the team. The Sherps are then upfitted to customer specifications and driven for another hour. During the final drive, upfitting is tested and any initial findings are retested. 
Test Drive
You can test drive a Sherp in Bemidji, MN or Lovell, WY by appointment only. Delta flies into Bemidji. You can learn more about test driving a Sherp ATV at one of the various test tracks here. The video below is from the test track in MN. 
Contact Us To Place Your Sherp ATV Order
Standard Features
If you want to save money, you can special order a Sherp without AC but it will result in a notable delivery delay. Resale will be significantly harder without AC.